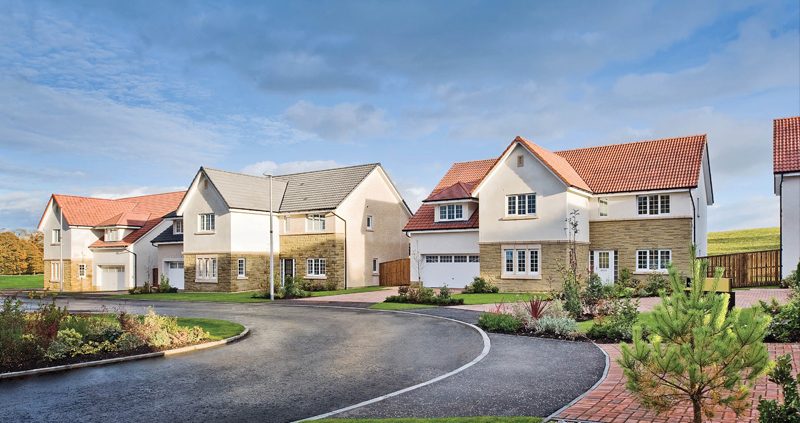 Phoenix Utilities Ltd have been appointed the Infrastructure Utility Partners for the Cala Homes Taylor Wimpey Consortium to supply Gas Electric and Water Services to this prestigious 834 homes Development.
Phoenix Utilities Ltd has been appointed the Infrastructure Utility Partner for Maidenhill, the new community in Newton Mearns from homebuilders CALA Homes (West) and Taylor Wimpey West Scotland. The contract involves supply of Gas Electric and Water Services to this prestigious 834-home development .
Phoenix Utilitie Ltd is delighted to be appointed this contractor of choice for the project, thanks to a proven track record of on-time delivery on previous utility contracts with CALA Homes (West).
Phoenix enabling works started on  June 18TH 2018, to provide the gas water and electric mains on what will be a five-year phased development.
Homebuilders CALA Homes (West) and Taylor Wimpey came together to break the ground and start works at the development of a new £150 million community at Maidenhill, Newton Mearns.
The initial works will create the framework of and access to the new community – which will be crucial for facilitating the 834 new homes, 209 of which will be affordable housing, as well as the new Maidenhill Primary school in the centre of the development.
Construction director of CALA Homes (West), Angus Murray, who will be leading the team as work commences, said: "We have spoken about Maidenhill as a new community for a very long time so it is great to be able to break the ground to mark work commencing. Our initial efforts will focus on creating the road network to facilitate access to the school and sports and recreation facilities.
"It will be some time before anyone sees houses on the development, but this is a real milestone for Maidenhill as it means we have taken the first real steps in turning the dream of this fantastic new community into a reality."
Production director of Taylor Wimpey West Scotland, Brian Henderson, said: "We are at the very beginning of creating Maidenhill and as we forge on with the infrastructure, we are keeping our promise of delivering a fantastic new community with a mix of private and affordable homes as well as the community amenities, front of mind.
"We'll be working closely with East Renfrewshire Council and the local community to ensure Newton Mearns reaps the benefits of our long-term investment in the area."
As Maidenhill progresses, a raft of benefits for the Newton Mearns community, courtesy of the multi-million pound investment by the two housebuilders, will come to fruition.
These include:
The creation of a range of properties from one-bedroom flats to five-bedroom detached homes.
Land and funding to facilitate the construction of Maidenhill Primary – a brand new non-denominational school offering 444 primary school places as well as 120 nursery places.
Multiple pockets of land to facilitate the delivery of affordable housing.
A multi-use games area (MUGA) and 3G pitch within the school, and available for use by the wider community.
Generous public open space throughout the development – equivalent to around 19 football pitches – including a linear green corridor and host of pocket parks.
A contribution towards local community halls, sports grounds, sports halls and centres, libraries and community health and care provision.
Contribution of land towards a community religious facility.
Additional contributions towards off-site road improvements at Mearns Cross and sustainable transport
https://www.phoenixutilitiesltd.co.uk/wp-content/uploads/2018/06/Cala-Blog.jpg
500
800
itw2015
https://www.phoenixutilitiesltd.co.uk/wp-content/uploads/2018/04/Phoenix-Logo-1030x402.jpg
itw2015
2018-06-03 13:12:46
2018-08-09 15:44:32
Phoenix Appointed Utility Partners For Cala Homes / Taylor Wimpey Consortium